User talk:Arikado
Jump to navigation
Jump to search
Great stuff
Great stuff (especially the breakout and wii shooting gallery) i would like to email you but you for the beta but you didn't put your email on the page! Zamadatix 21:25, 31 December 2008 (UTC)
Erm... My e-mail is on the page. its in bold text too btw. Anyways, the beta is closed. The game'll be out tomorrow. See the Wiibreaker page for all the new changes.--Arikado 23:23, 2 January 2009 (UTC)
You dont have to wait. Its out now!!!--Arikado 16:43, 3 January 2009 (UTC)
Thanks
Thank you for the rewrite on the NWFC ban rumor, English writing was never my thing. LoganA 14:45, 22 March 2009 (UTC)
Hey there. Thanks for plugging Harmonium on Tehskeen! -- MetaFight 20:38, 19 May 2009 (UTC)
Homebrew releases
Please remember to move the last item on the list to the Archive. LoganA 19:54, 25 March 2009 (UTC)
Screenshots
Hi,
I have make screenshots of your WiiBreaker v0.3 game, maybe can you use it on the WiiBreaker info page ;)
Regards, Jef1991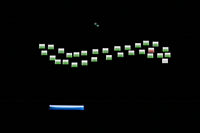 Need Help Immediately
Well I was trying to log on to the forum and now it wont let me and it gives me the "That username/password was not found or is inactive. Please try again." error. sooo...please help.?!--Flyguy 20:06, 31 July 2009 (UTC)
I did in no way encourage the posting of that!! I even said that it was wrong!!! I for one am disgusted by things like that!! I don't encourage that or had any intent to! Regarding off-topic things I have done it but not to excessively or ever ever on a gross thing like that!--Flyguy 20:54, 2 August 2009 (UTC)
"Wii" vs. "Nintendo Wii"
Hi, I see you undid my edit on Main Page/Welcome. It was probably just a misunderstanding caused by the incomplete edit summary (I might have accidentally hit return before finishing the edit summary). The reason I did that modification is because the console is officially called "Wii", not "Nintendo Wii", according to Nintendo[1] — I'm sort of a grammar nazi. :D Diego pmc 13:59, 28 August 2009 (UTC)
Dop-IOS mod: new IOS versions
I've made a list of the IOS updates marcmax and you missed so you don't have to read the Wiimpersonator report I posted on the Dop-IOS talk page yourself.
IOS9: 521 -> 778
IOS12: 12 -> 269
IOS13: 16 -> 273
IOS14: 263 -> 520
IOS15: 266 -> 523
IOS17: 518 -> 775
IOS21: 525 -> 782
IOS22: 780 -> 1037
IOS28: 1293 -> 1550
IOS31: 3092 -> 3349
IOS33: 2834 -> 3091
IOS34: 3091 -> 3348
IOS35: 3092 -> 3349
IOS36: 3094 -> 3351
IOS37: 3612 -> 3869
IOS53: 5149 -> 5406
IOS55: 5149 -> 5406

const struct ios ioses[]={
//IOS# OLDVERSION# NEWVERSION#, ???, Description -- Arikado
{4,65280,65280,PROTECTED,"Stub, useless now."},
{9,520,778,NORMAL,"Used by launch titles (Zelda: Twilight Princess) and System Menu 1.0."},
{10,768,768,PROTECTED,"Stub, useless now."},
{11,10,256,STUB_NOW,"Used only by System Menu 2.0 and 2.1."},
{12,6,269,NORMAL,""},
{13,10,273,NORMAL,""},
{14,262,520,NORMAL,""},
{15,257,523,NORMAL,""},
{16,512,512,PROTECTED,"Piracy prevention stub, useless."},
{17,512,775,NORMAL,""},
{20,12,0,STUB_NOW,"Used only by System Menu 2.2."},
{21,514,782,NORMAL,"Used by old third-party titles (No More Heroes)."},
{22,777,1037,NORMAL,""},
{28,1292,1550,NORMAL,""},
{30,1040,2816,STUB_NOW,"Used only by System Menu 3.0, 3.1, 3.2 and 3.3."},
{31,1040,3349,NORMAL,""},
{33,1040,3091,NORMAL,""},
{34,1039,3348,NORMAL,""},
{35,1040,3349,NORMAL,"Used by: Super Mario Galaxy."},
{36,1042,3351,NORMAL,"Used by: Smash Bros. Brawl, Mario Kart Wii. Can be ES_Identify patched."},
{37,2070,3869,NORMAL,"Used mostly by music games (Guitar Hero)."},
{38,3610,3867,NORMAL,"Used by some modern titles (Animal Crossing)."},
{50,4889,5120,STUB_NOW,"Used only by System Menu 3.4."},
{51,4633,4864,STUB_NOW,"Used only by Shop Channel 3.4."},
{53,4113,5406,NORMAL,"Used by some modern games and channels."},
{55,4633,5406,NORMAL,"Used by some modern games and channels."},
{56,4890,5405,NORMAL,"Used only by Wii Speak Channel 2.0."},
{57,5404,5661,NORMAL,"Unknown yet."},
{60,6174,6400,STUB_NOW,"Used by System Menu 4.0 and 4.1."},
{61,4890,5405,NORMAL,"Used by Shop Channel 4.x."},
{70,6687,6687,LATEST,"Used by System Menu 4.2."},
{222,65280,65280,PROTECTED,"Piracy prevention stub, useless."},
{223,65280,65280,PROTECTED,"Piracy prevention stub, useless."},
{249,65280,65280,PROTECTED,"Piracy prevention stub, useless."},
{250,65280,65280,PROTECTED,"Piracy prevention stub, useless."},
{254,2,260,PROTECTED,"PatchMii prevention stub, useless."}
};

Feel free to edit that array yourself in compliance with the data you posted. If not, I'll do it myself as soon as I have time tomorrow (or later today if I'm lucky, I'm heading out the door right now and have a homework megaton awaiting me when I get back)--Arikado 19:51, 1 October 2009 (UTC)