WiiXplorer
Jump to navigation
Jump to search

WiiXplorer is a multi device file explorer for the Wii with a GUI made with Libwiigui (by Tantric) and with graphics by NeoRame.
Features
SMB/USB/SD recursive copy/move/delete of files/directories with all files in it
Rename files
Properties of files/directories
Browse through SD/USB/SMB
Addressbar with path
Multilanguage support
Boot .dol/.elf files
Open TXT/XML/PNG/JPEG/GIF/MP3/OGG/ files
Unzip ZIP files (dont work on SMB)
Coming soon (Wishlist)
Multiple Windows (Minimize/Maximize Windows)
Better SMB handle
FAT/NTFS Selection (like in MPlayer CE)
Unzip RAR/7ZIP files
Controls
| | Action |
| --- | --- |
| | Move Pointer |
| | Click button |
| | Close Context menu/Picture |
| | Navigate |
| | Open Context menu |
Screenshot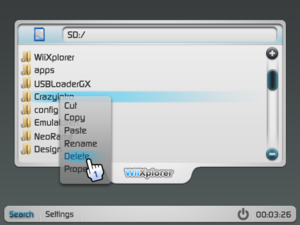 W.I.P.: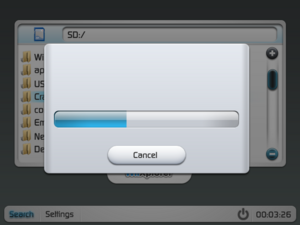 File:Concept textreader mini-maxi-close.png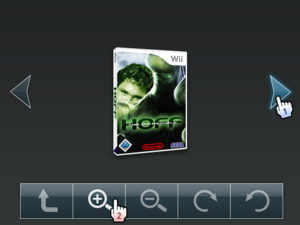 Credits
Coding: Dimok, r-win
Artworks: NeoRame
Iconset: Oxygen
Languages: Dj Skual and all translators
Libwiigui: Tantric
Libogc/Devkit: Shagkur and Wintermute
FreeTypeGX: Armin Tamzarian.