Difference between revisions of "DopeWars Wii"
Jump to navigation
Jump to search
Line 50:
Line 50:
 

=== v1.0 ===

 

=== v1.0 ===

 

Initial release

 

Initial release

−

 
−

===New Icons===

 
−

[http://img.photobucket.com/albums/v146/wicky79/Kieran/icon.png Icon1 made by kezza825]

 
---
Revision as of 20:29, 15 April 2009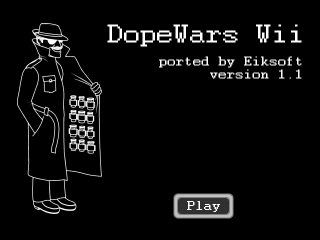 DopeWars Wii is a port of the original game for the Palm OS. This version was chosen for its easy to use point and click interface. DopeWars is a turn-based strategy game in which the player simulates the role of a drug dealer. The game's objective is to make the maximum amount of money within a limited time.


Graphical interface with ability for skins (future version)
Jet to six different locations around New York City
Manage your money at the Bank, and pay off your debts at the Loan Shark
Buy a gun or shotgun to defend against the police
Deal eight different drugs, ranging from marijuana, to cocaine, to peyote
Over twenty random events to keep things interesting
High score system
Retro terminal style graphics to preserve classic feel


Updated 10.26.08 with boot.dol for proper HBC beta 9 support


v1.0
http://www.eiksoft.com/dopewars/s1.png
http://www.eiksoft.com/dopewars/s2.png

v1.1
http://www.eiksoft.com/dopewars/s4.jpg
History
v1.1
New modern skin
Skin chooser at load, select from retro or modern
Loading screen added
v1.0
Initial release