Homebrew Channel icons
Jump to navigation
Jump to search
This page is for Homebrew Channel compatible icons. The icons should be 128x48 pixels saved in PNG format.
It is advised that you do not use copyrighted materials like system logo designs for legal reasons. Original content is preferred.
Asteroids
Atawii
Ballion
Chess
Duck Hunt
Duplicated Channel Remover
ExistenzE
FCEU
Filesystem Dumper
FTPii
Gamecube Saver
Genesis Plus
GCLinux
Guitarfun
Hugo Wii
Jewel Quest
Mame
Mandelbrot
MAsteroids
MFE
MineSweeper
Mii Extractor
Mii Installer
MiniMP3
Missile Command
OpenTyrian
PONG
Quake
Region free
Rin
saturn
Savegame Extractor
Savegame Installer
Scogger
ScummVM
SD Explorer
SMS Plus
Snake
Snes9x
sudoku
Tetris
Touhou
Trojan
VBA
WAD Installer
WAD Manager
WAD Uninstaller
Wii64
Wiilight
Wiipaint
Wii Web Server
USB
Nintendo (general)
More
A Full icon pack can be found at: http://pspplayground.condor.serverpro3.com/index.php?topic=8122.msg44844#msg44844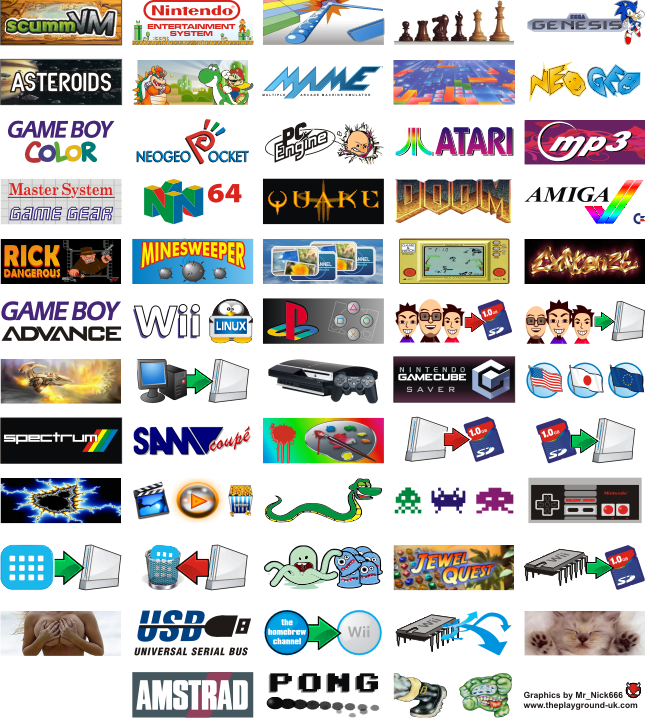 Mr_Nick666 icons >> Mirror
More icons can be found here: http://www.wiigen.fr/index.php?option=com_smf&Itemid=43&topic=5504.0
Homebrew Icons (a 'Wii' Look) by LowLines
The full collection of 'Wii Style' Icons can be found on my website (Low Lines Resources), either by clicking on the "Wii Style Icons" Channel or in the "Projects Section".
Lines MahjongSolitaire.png
I have started making up a collection of Homebrew Channel Icons, I try and give my icons that clean and fresh 'Wii' look. I am also willing to do other icons requested here. Don't forget there may be more icons in my set than what is displayed above so be sure to check my site, or the forum above in case there are any new ones I have not uploaded here yet.
Homebrew Icon Pack by VibeStar
Homebrew Icons - Black Glass Style by Simon
I have made some black glossy glass style wii HBC icons (Some use LowLines' Logos - Hope you don't mind) and also included the .psd file so you can add your own.
Note: I'm fine with, my name is there so it's not like your claiming them as your own ;p Low Lines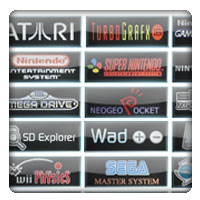 Loaders
See Loaders
Also, complete packages (icon, xml and elf file) can be found here: http://gbatemp.net/index.php?showtopic=87796 , and here: http://wiihack.de/downloads.php?do=file&id=223 .
Emulators, Apps, OS, Media Players, and Games in seperated packs verified daily for the latest releases here: http://nintendo-scene.com/homebrew-channel-packs .
Homebrew Channel Pack with updated emulators and homebrew apps can be found here: http://wehackwii.blogspot.com/2008/05/homebrew-channel-pack.html .