Homebrew Channel icons
Jump to navigation
Jump to search
This page is for Homebrew Channel compatible icons. The icons should be 128x48 pixels saved in PNG format.
It is advised that you do not use copyrighted materials like system logo designs for legal reasons. Original content is preferred.
Unsorted
A
B
C
D
E
F
Filesystem Dumper
FiSSION
FS Browser
G
GCLinux
H
I
J
K
L
M
N
O
Ocarina
P
Pac-Man
Q
R
Region free
S
T
U
USB
V
W
WiiHandy
WiiLight
WiiMU
WiiPaint
WiiShip
Wii Shooting Gallery
=Wii Web Server
X
Xyzzy
Y
Z
General
Nintendo
Icon packs
Wii style icons by LowLines
The full collection of 'Wii Style' Icons can be found on my website (Low Lines Resources), either by clicking on the "Wii Style Icons" Channel or in the "Projects Section".
As of 11th October 2008 my "Wii Style Icons" project is open for requests, though I'll be doing it exclusively on my website to avoid and more mishaps as to what had happened before. A link to posting requests/comments can be found on the Project Page.
Update: I have been updating all my older icons with the newer style I have been using lately. Still that simple clean look, just *hopefully* more clearer and a bit more flexible for me while keeping to a style (unlike the previous lot that varied here and there).

Old Style
New Style
Homebrew icon pack by VibeStar
HBC Icon pack by Azza123
Just some HBC Icons I have made.
My icons were not working before, as I didn't format the size right. They should all be in working order now though.
Black Glass Style by Simon
I have made some black glossy glass style wii HBC icons (Some use LowLines' Logos - Hope you don't mind) and also included the .psd file so you can add your own.
Note: I'm fine with, my name is there so it's not like your claiming them as your own ;p Low Lines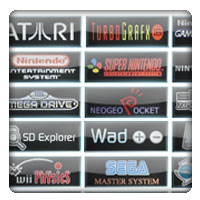 HBC icon Pack by Chou
'Simplistic Wii' pack by Azza123
Just some Wii styled HBC icons I made.
Icon pack by Mr Nick666
A Full icon pack can be found at: http://pspplayground.condor.serverpro3.com/index.php?topic=8122.msg44844#msg44844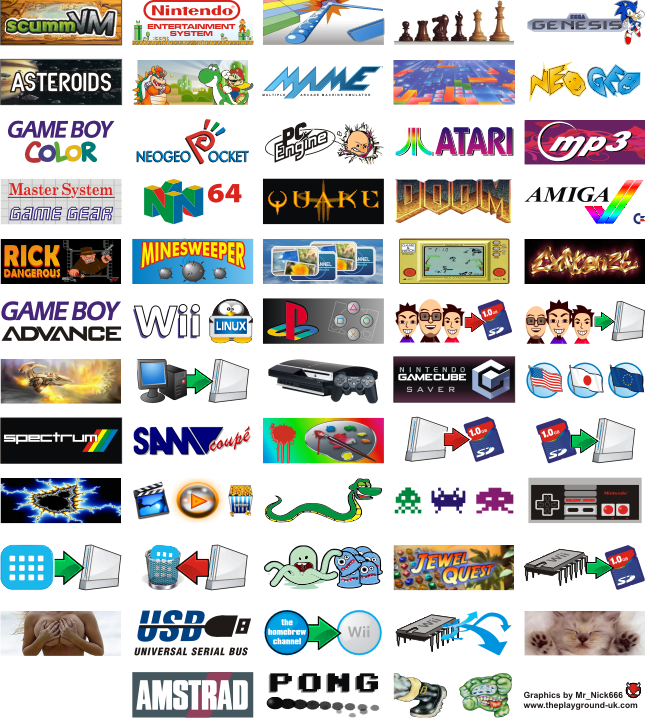 Mr_Nick666 icons >> Mirror
Waves icons by Don Killah
Icons by Joro