PixelMerge
Jump to navigation
Jump to search
PixelMerge
General
Author(s)
evilynux
Type
Puzzle game
Version
1.0.0
Licence
GPL
Language(s)
English
Peripherals

PixelMerge is a clone of the simple yet addictive Flood-it game. Fill the whole board with the same color within the maximum number of allowed steps in order to win. The topleft pixel is your starting point, change to another color to merge and form a group with surrounding pixels sharing the same color. Successive color changes will change the group's color.
TODO
List of things I want to complete before going public.
High
Add screen settings (WIP).
Add xml read/write for settings and records (MOSTLY DONE).
Fix normal/hard layouts.
Create remaining custom buttons.
Make sure credit is given where it's due; fix remaining headers.
Low
Move "Game View" code from menu.cpp to a separate class.
Translation support; gettext.
Features
Three difficulties (see Table below)
Best record for each difficulties is saved to SD or USB (optional)
Graphical screen adjustment; values saved to SD or USB (optional)
| | | |
| --- | --- | --- |
| Difficulty | Grid Size | Allowed Steps |
| Easy | 14x14 | 25 |
| Normal | 21x21 | 35 |
| Hard | 28x28 | 50 |
Installation
Extract the archive's content directly to the root of your SD or USB device.
Controls
In Menu
| | Action |
| --- | --- |
| | Pointer |
| | Select |
| | Exit PixelMerge |
In Game
Note: You can play either by pointing and clicking on the color buttons or by helding the wiimote horizontally and using the keybindings.
| | Action |
| --- | --- |
| | Pointer |
| | Select/Change color |
| | Quit to menu |
| | Action |
| | Change color to pink |
| | Change color to dark blue |
| | Change color to yellow |
| | Change color to red |
| | Change color to light blue |
| | Change color to green |
| | Quit to menu |
Screenshot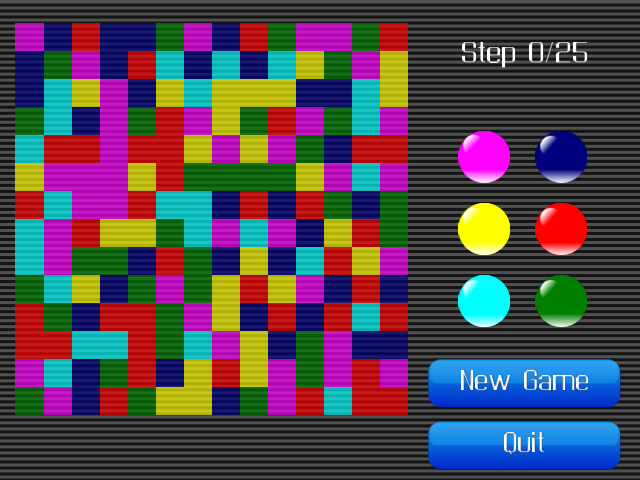 ChangeLog
Version 1.0.0 - UNRELEASED