Pacline
From WiiBrew
Pacline is a pacman vertical screen scrolling game. Catch the yellows dots while avoiding the enemies
Video of my release whose compete in the Nintendomax Wii Dev 2009 competition:
Thanks to authors of this video
Screenshots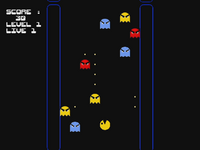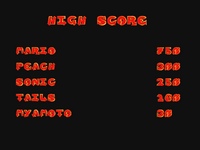 Changelog
August 19th 2009,V1.2
Save high score
Improvement code source
June 20th 2009,V1.1
Added 3 lives
Several colors for the ghosts and they're also a little more beautiful
Image on sd (preparation theme)
Removal of the splashscreen
New splashscreen

May 31th 2009, v1.0 Nintendo max edition for the Nintendomax Wii Dev 2009 competition.
To do list
3 lives
save score
themes (mario kart and turtle, dog and cat, car and bus...)
more color for ghost
sound on menu and game
anime enemies
...
Feedback & Bugs
Feedback would be greatly appreciated. You can find me in #wiidev or #GRRLIB on EFnet or #dev-fr on EFnet, or you can use the e-mail gdcv@free.fr.
If you found a bug, please report it.
Thanks