Wii
Jump to navigation
Jump to search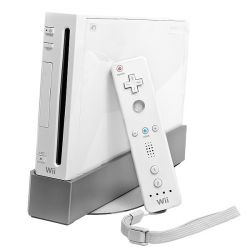 The Nintendo Wii is a seventh generation console created by Nintendo. It was first released on November 19, 2006 in North America and in December 2006 for most other regions. It is Nintendo's fifth major home game console, following the GameCube.
Over the years, the Wii became the sixth best selling console of all time, and revolutionized motion controls in the world of video games. The Wii was also the console of some of the top 50 best selling games of all time, including Wii Sports, Super Smash Brothers, Wii Fit, and Mario Kart Wii.
Homebrew
On top of being a popular console, the Wii also has a huge homebrew scene. The homebrew scene began small, but became big rather fast in the late 2000s to the early 2010s. While the popularity of Wii homebrew declined, it still remains heavily popular. Because the Wii is not a trivial console to homebrew, it is the easiest console to get into in terms of homebrew. There are many homebrew applications, ranging from utilities, to emulators.
Hardware
Main article: Hardware